Vauban et ses successeurs dans les ports du Ponant et du Levant
Ouvrage collectif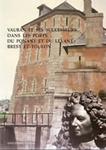 Contributions from multiple specialists on the coastal fortifications in the north-west and the south ofFrance, constructed by Vauban and other military engineers, especially including Louis-Nicolas de Clerville and on the defensive maritime strategy.
Paris : Association Vauban - 2000
- , 1 vol. (383 p.) : ill. en noir et en coul, couv. ill. en coul.
Langue(s) de la ressource