Vauban et ses successeurs en Franche-Comté : trois siècles d'architecture militaire
Délégation régionale à l'architecture et à l'environnement, Centre régional de documentation pédagogique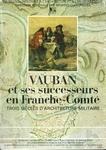 The first part of the work covers the evolution of the fortification and artillery from 1450 to the start from 20th century. The second part presents the various strongholds of Vauban in Franche-Comté and taken over by his successors. The work is enriched with numerous diagrams, maps and illustrations as well as a lexicon on the fortification of the middle Ages up to our time.
Besançon : Centre régional de documentation pédagogique - 1981
- , 1 vol. (248 p.) : ill. en noir, cartes, plans, couv. ill. en coul.
Notes
Bibliogr. p.236-242 . Glossaire. Exhibition held in 1980 as part of the year of Heritage.
Langue(s) de la ressource