Vauban et ses successeurs en Hainaut et d'Entre-Sambre-et-Meuse
Ouvrage collectif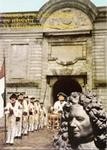 Contributions from multiple specialists on the strongholds of the north-east of France, constructed by Vauban and other military engineers, the reconstruction of Belgian fortresses after 1815 and on the state of the Pré Carré (Duelling Field).
Paris : Association Vauban - 1994
- , 1 vol. (172 p.) : ill., couv. ill. en coul.
Notes
Symposium organised by the Vauban Association in Maubeuge from 24 to 26 May, 1990.
Langue(s) de la ressource