Vauban et ses successeurs en Provence Occidentale
Ouvrage collectif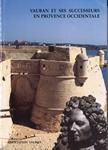 Par la diversité des sujets abordés, ce colloque couvre un vaste champs de l'Histoire et de la Géographie, à travers les fortifications provençales, mais aussi avec des exemples tirés de la guerre russo-japonaise. 
Pour commencer, une présentation comparée des sites fortifiés de Colmars-les-Alpes, du Frioul et de Martigues "Trois ouvertures différentes pour le XXIe siècle". Puis François-Noel Richard, présente les quatre siècles de l'histoire du fort de Ratonneau depuis Henri IV jusqu'à l'occupation allemande. Ensuite, un grand bond vers l'Orient Extrême pour évoquer "Les actions contre les fortifications des ports militaires dans l'histoire géopolitique du XXe siècle". Bien loin de la poliorcétique, un nouvel éclairage de la "Dîme Royale" rédigée par Vauban est proposé. Pour terminer, une présentation d'"Albion, citadelle de la dissuasion à des forces nucléaires stratégiques terrestres avec dix-huit fusées sous silos et deux P.C de tir".
Paris:Association Vauban - avril 2009
- , 1 vol. (343p.): couv.Ill en coul., ill en coul.
Notes
Congress organised by the "Association Vauban" in Martigues from the 25th to the 28th of May 2006.
Langue(s) de la ressource