The Vauban fortifications of France
GRIFFITH Paddy, PETER Dennis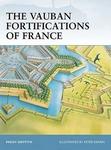 This work presents the main fortified sites by Vauban in France, the construction of the French frontier via his Pré Carré (Duelling Field), the principles of the defence of a stronghold, and the innovations of Vauban in siege war.
New-York : Osprey Publishing - 2006
Collection
Fortress ; n°42
- , 1 vol. (64 p.) : ill. en coul., plans, couv. ill; en coul.
Notes
Bibliogr. Glosssary. Index.
Langue(s) de la ressource