Vauban, ingénieur du soleil
Musée Ernest Cognacq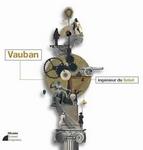 This exhibition catalogue focuses on the military genius of Vauban via the defence of the coasts, siege war, and the mastery of the French territory. One part is dedicated to the Isle of Rhe in the 17th century.
Saint-Martin-de-Ré : Musée Ernest Cognacq ; Ville de Saint-Martin-de-Ré - 2007
- , 1 vol. (81 p.) : ill. en noir et en coul., couv. ill. en coul.
Notes
Exhibition from 6 October, 2007 to 15 March, 2009
Langue(s) de la ressource