Vauban : ingénieur et homme de guerre
BARDE Yves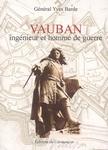 Having detailed the childhood and career of Vauban, the work presents the creations of the architect and how the sieges were managed. In the annex a chronology of the movements of Vauban in France is included.
Précy-sous-thil : Armançon - 2006
- , 1. vol. (195 p. - 24 p. de pl.) : ill. en noir et en coul., couv. ill. en coul.
Langue(s) de la ressource