Vauban : la guerre, la gloire
FOUGERET Alain, LAGRANDE François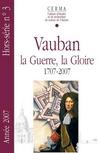 Contributions on the active reports in Europe, the place of the Commissioner general of fortifications in the government set-up, the military arithmetic, the influence of Vauban on French artillery, hydraulic fortification, information and moral resources of the combatant. The work finishes with a presentation of the objects featured in the exhibition of the Army museum in 2007.
Paris : Musée de l'armée - 2007
Collection
Cahiers d'études et de recherches du musée de l'armée ; HS n°3
- , 1 vol. (370 p.) : ill. en coul., couv. ill.
Langue(s) de la ressource