Vauban : la normalisation du travail avant Taylor?
PEAUCELLE Jean-Louis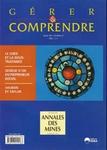 This article compares the rationalisation and normalisation of the work of Vauban and Taylor. It exposes the perspective of Vauban on the organisation of his constructions and the difficulties encountered in regulating this work especially due to the mentalities and techniques of this period.
The first part of the article shows the perspective of Vauban via his experiences and the organisation of his construction. The second part shows the difficulties of Vauban in regulating the work of the labourers.
Paris : Eska - mars 2007
Annales des mines : Gérer et comprendre - n°87, p.48-60
Langue(s) de la ressource