Vauban : l'homme, l'ingénieur, le réformateur
PAGNOT Yves, HEYBERGER Laurent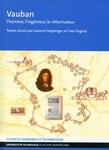 Contributions to the military genius of Vauban based on his use of the art of siege, the writing of Oisivetés ("idle thoughts"), the fortification of Belfort and the military engineers in the 17th century. The publication finishes with an extract from the show directed by Christine Kobus, composed based on the texts of Vauban.
Belfort : Université de technologie de Belfort-Montbéliard - 2008
Collection
Sciences humaines et technologie
- , 1 vol. (155 p. - 30 p. de pl.) : ill. en coul., cartes, plans, couv. ill. en coul.
Langue(s) de la ressource