Vauban : l'intelligence du territoire
BARROS Martin, SALAT Nicole, SARMANT Thierry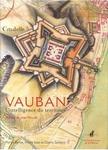 Illustrated by the collection of maps and drawings preserved at the Defence History Department in Vincennes, this work retraces the life and times of Vauban via the monarchy of the Grand Century, its sieges, the construction of its strongholds and its Pré Carré (Duelling Field). The annex contains the memoirs of Vauban on the strongholds preserved inVincennes.
Paris : Nicolas Chaudun ; Ministère de la Défense - 2006
- , 1 vol. (175 p.) : ill. en noir et en coul., cartes, couv. ill. en coul.
Notes
Bibliogr. p.174-175. Glossaire. Chronol.
Langue(s) de la ressource