BRISAC Catherine, FAUCHERRE Nicolas, Association Vauban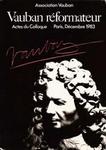 Contributions on the military genius of Vauban, the construction of navigable waterways in France, his economic theories via observation of the living conditions of peasants, and his reflections concerning the colonial policy of France and to external relations.
Paris : Association Vauban - 1993
- , 1 vol. (424 p.) : ill. en noir, cartes, couv. ill. en noir
Notes
Symposium organised from 15 to 17 December 1983, as part of the Vauban year in Paris at the museum Guimet. Index.
Langue(s) de la ressource