Vauban : un encyclopédiste avant la lettre
PARENT Michel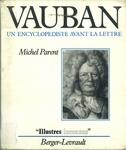 The author presents the military career of Vauban, his strategy for defence of sites, the wars of Louis XIV, the reorganisation of the army and the three fortification systems. It shows that Vauban was not only a military engineer but also a reformer, especially via the royal dime, the organisation of State and the colonial policy of France. The annex contains the main sieges of Vauban.
Paris : Berger-Levrault - 1982
Collection
Illustres inconnus : n°1
- , 1 vol. (217 p.) : ill., couv. ill.
Notes
Bibliogr. p. 217-218
Langue(s) de la ressource