Besançon, l'empreinte du génie de Vauban
DORIER Jackie, ESTAVOYER Lionel, MONGIN Marie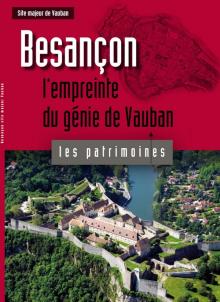 Besançon stretches out on either side of a meander formed by the river Doubs. Vauban has left his mark on the whole town, and here more than anywhere else, his engineering skills helped him adapt to the constraints of the land. The strategic interest of the town had been noticed since early times and therefore its defences were constantly added to over the centuries to adapt to changes in artillery. The outstanding work carried out by Vauban, Louis XIV's engineer, together with a municipal commitment to preserving and enhancing its fortified heritage, make Besançon today an outstanding site where urban walls, quays, bastioned towers, ditches and citadel all blend perfectly into a landscape of fortified hills and wooded mounts.
Républicain Lorrain - septembre 2013
Collection
Les patrimoines-Sites majeurs de Vauban
- , 1 vol. (51 p.) : ill. en noir et en coul., cartes, plans, couv. ill. en coul.
Langue(s) de la ressource