Documenter une forteresse disparue par les atlas militaires européens. Le cas du Mont Royal (Rhénanie-Palatinat)
FAUCHERRE Nicolas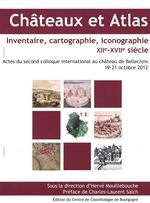 In 1688, Vauban began construction of the stronghold of Mont-Royal, now in Germany, and at the time regarded as the greatest stronghold in his "pré carré". In 1698, the treaty of Ryswicksigned between Louis XIV and the Grand Alliance, meant this fortification then lay in enemy territory leading to its premature destruction. Louis XIV carefully destroyed the stronghold so that it could no longer be used and turned against him. Archival records that exist about this fortress come from spying on countries that were enemies ofFranceat the time.
In addition, the author questions the relationship between the illustrations and the ground experiences. Although they provide valuable information that is often missing from written documents, they cannot be relied upon exclusively. 
Chagny: Centre de Castellogie de Bourgogne - 2013
- , 1 vol (extrait d'un ouvrage complet):couv ill en coul, ill en coul, cartes, plans
Notes
Extracts from the conference proceedings of the second international colloquium organized from the 19th to 21st October 2012 in château de Bellecroix.
Langue(s) de la ressource