MICHEL Georges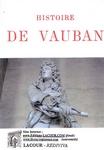 This work relates the life and military genius of Vauban at the heart of the army of Louis XIV. It also presents the military campaigns of Vauban and the construction of strongholds on the frontier of the north.
Nîmes : Lacour-Ollé - 2007
- , 1 vol. (302 p.) : ill. en noir et en coul., couv. ill. en coul.
Notes
Reprint of a work printed in 1896
Langue(s) de la ressource