La route des fortifications en Atlantique
FAUCHERRE Nicolas, LEBLANC François-Yves, LEMAÎTRE Pascal (photogr.) CUDENNEC Guillaume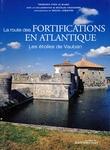 Illustrated with numerous photographs, the work presents the main fortified sites by Vauban on the Atlantic coasts, including the Isle of Rhe. Each fortified site features an extract of the correspondence of Vauban.
Paris : Huitième jour - 2007
Collection
Les étoiles de Vauban ; Chemins de traverse
- , 1 vol. (159 p.) : ill. en coul., couv. ill. en coul.
Langue(s) de la ressource