Les fortifications de Vauban : découverte guidée en pays catalan
AYATS Alain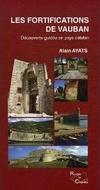 Guided and commented visit via the fortifications of the Pyrenees-Orientales. The first part examines the various conflicts which occurred in the region. The author also provides a biography of Vauban, as well as a history and practical information for each fortified site: Fort de Collioure, Fort de Perpignan, Fort de Prats-de-Mollo, Fort d'Amélie-les-Bains, Fort Mont-Louis, Fort de Villefranche-de-Conflent and Fort de Bellegarde.
Canet : Trabucaire - 2005
Collection
Routes et chemins
- , 1 vol. (109 p.) : ill., couv. ill. en coul.
Notes
Glossaire. Chronolog.
Langue(s) de la ressource