Sur les pas de Vauban en Lorraine et au-delà des frontières
BOUCON Jean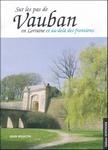 This work covers the construction of the north-east frontier of France via the strongholds of Vauban inLorraine,LuxembourgandBelgium, the siege of Namur and the conflicts with the Spanish Netherlands. It contains a map of the main fortified sites of Vauban inFrance.
Metz : Serpenoise - 2005
- , 1 vol. (157 p.) : ill. en coul., cou. Ill. en coul.
Notes
Bibliogr. p.154-155. Glossaire
Langue(s) de la ressource