BORNECQUE Robert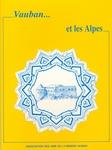 The work initially retraces the military situation of the frontier of the Alps before Vauban and the arrival of Vauban in the Alps. The author comments and then presents the various strongholds constructed by the engineer: the Dauphin strongholds, the places ofHaute-Provence, Savoyand Piémont. The work also covers the siege of Turin and is accompanied by the list of relief maps of alpine fortifications.
Saint-Léger-Vauban : Association des amis de la Maison Vauban - 1995
- , 1 vol. (109 p.) : ill., cartes, couv. ill. en coul.
Langue(s) de la ressource