Vauban et les voies d'eau
VIROL Michèle, ADGE Philippe, BRAGARD Philippe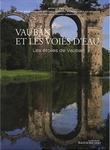 This work focuses on the architecture and hydraulic techniques used by Vauban. It presents the water network of the kingdom of Louis XIV, the history of the construction of the canal of the Languedoc and the construction of the aqueduct de Maintenon and the use of waterways for hydraulic defence.
Paris : Huitième jour - 2007
Collection
Les étoiles de Vauban ; Chemins de traverse
- , 1 vol (127 p.) : ill. en noir et en coul., couv. ill. en coul.
Notes
Bibliogr. p. 127. Glossary
Langue(s) de la ressource