Vauban et ses successeurs dans le territoire de Belfort
Ouvrage collectif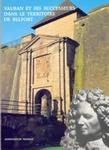 Contributions from multiple specialists on the history of Belfort via the construction and strategic positioning of the stronghold. The work particularly features the conflicts with Germany in the 19th century and the sieges which followed.
Paris : Association Vauban - 1992
- , 1 vol. (141 p.- 8 p. de pl.) : ill., cartes, plans, couv. ill en coul.
Notes
Symposium organised by the Vauban Association in Belfort.
Langue(s) de la ressource