Vauban et Toulon : histoire de la construction d'un port-arsenal sous Louis XIV
PETER Jean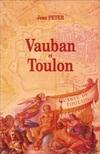 This work covers the construction of the port-arsenal of Toulon. The author explains the evolution of this project, presents the engineers and craftsmen having participated in the same, as well as the military buildings and the cost of the arsenal.
Paris : Institut de stratégie comparée : Economica - 1994
Collection
Hautes études maritimes
- , 1 vol. (326 p. - 20 p. de pl.) : ill., cartes, couv. ill. en coul.
Notes
Bibliogr. p. 314-316. Index
Langue(s) de la ressource