Communauté européenne. Bureau de représentation (France)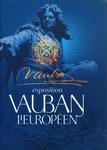 This exhibition catalogue presents some extracts from the manuscripts of Vauban, citing his awareness of a European area and his willingness to create a common currency to facilitate the free circulation of products.
Paris : Représentation en France de la Commission européenne - 2008
- , 1 vol. (42 p.) : ill., plans, couv. ill. en coul.
Notes
Exhibition organised from 14 September to 2 October 2007, as part of the Journées européennes du patrimoine (european Days of heritage) and the Quinzaine européenne du patrimoine et de la défense (Eur
Langue(s) de la ressource