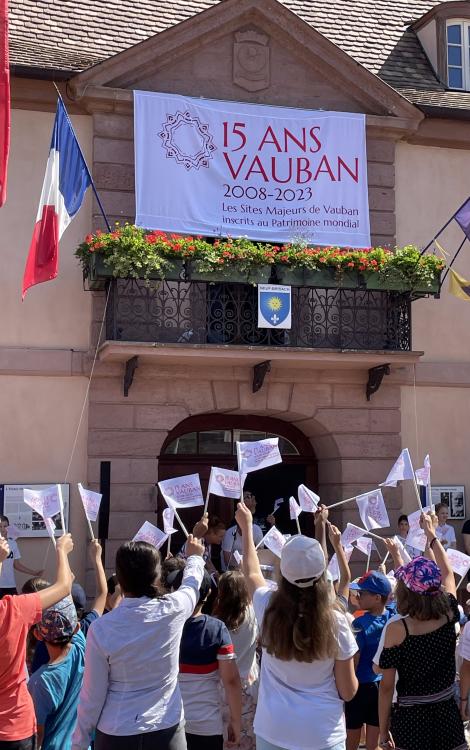 On July 7th 2023, 15 years to the day after the Fortifications of Vauban were inscribed on UNESCO's World Heritage List, the twelve major Vauban sites proudly celebrated this anniversary in ceremonies marked by the flags being raised at all sites at 11am.
Flags displaying the "15 ans Vauban" emblem are now flying in all twelve corners of France, symbolizing the pride of belonging to the Fortifications of Vauban as a World Heritage site, and a sign of their shared commitment to preserving and promoting this exceptional heritage.
Inscription on UNESCO's World Heritage List is indeed an international recognition of the universal and exceptional value of natural and cultural properties, whose importance is such that their disappearance would mean a loss for the whole of humanity. It also represents a long-term commitment towards the international community and future generations to preserve and promote the listed property.
To celebrate the 15-year anniversary of the Fortifications of Vauban's inscription on UNESCO's World Heritage List, and to further promote Vauban's major sites and their Outstanding Universal Value, a number of other festive and cultural activities are being organized throughout the year by the twelve major sites: historical shows, cultural events, exhibitions, fireworks, festive gatherings...
Find the full program on our dedicated page.