L'héritage culturel Vauban à Luxembourg : un itinéraire culturel du Conseil de l'Europe pour un voyage dans le temps et dans l'espace
SAVIN Cyrille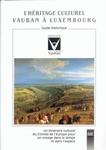 This guide offers you the chance to discover the history of Luxembourg via an itinerary including the fortifications of Vauban. The civilian and military life in the town as well as the siege of Luxembourg in 1684 are also mentionned.
Luxembourg : Saint-Paul - juin 2005
- , 1 vol. (103 p.) : ill. en coul., couv. ill. en coul.
Langue(s) de la ressource