Louis XIV et les Pyrénées catalanes de 1659 à 1681 : frontière politique et frontières militaires
AYATS Alain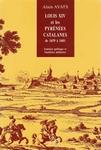 This work covers the defence and the construction of the military frontier in the Roussillon region via the conflicts betweenFranceandSpain, the policy and military campaigns of Louis XIV in the Pyrenees and the construction of Roussillon strongholds.
Canet : Trabucaire - 2002
- , 1 vol. (880 p.) : cartes, couv. ill. en coul.
Notes
Bibliogr. p. 863-868
Langue(s) de la ressource